Social media monitoring tools
help desk software developed by Deskero
Modern customer care can't be achieved by simply answering help requests. A good service is not enough anymore: every company has to offer to its clients a really great experience. And that's why we have created Deskero, an innovative help desk software, born from an innovative idea: creating a new kind of relationship with customers.
And to bring customer care to the next level, Deskero is the only customer care software to offer companies really effective free social media monitoring tools. Stop getting lost in a mess of complicated and expensive features and wasting hours of time in training of social media management software.
Whether you like it or not, people are talking about your brand online. Do you know what they are saying?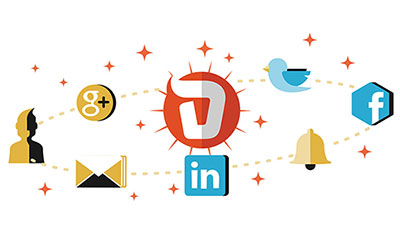 Listening to what your customers, competitors, critics, and supporters are saying about you is key to getting great results. Keep your ears open to what is really relevant among all the social gossip! Our social search features give you quick access to everything that is said about your brand, services and competition, so you can pick up proactive conversations with all your possible clients, find new sales opportunities and tap into the real social power.
Over the last decade, social media monitoring has been used to identify, predict, and respond to consumer behavior. Social media management tools track social media content to determine the volume and sentiment of online conversation about a brand or topic. They allow you to measure the impact of campaigns, identify opportunities for engagement, evaluate the activity of your competitors and to be notified of impending crises.
Track your brand, your product, your competitors and keep a keen eye on your complete social experience.
Deskero will make sure that any relevant conversation is immediately flashed before your eyes! Through Deskero free social media monitoring tool, you can choose to track your competitors' Facebook and Twitter accounts to be informed about how many fans and followers they have with just one click.
You can also track some keywords that you think are interesting for you and your company. So, if you set a search for 'customer service' you will be informed about this word's trend on social networks through a simple report. Do you want to know how many times the word 'pizza' has been written on social networks? You can do that!
- How can I track my competitors on the social monitor?
The admin can configure the competitors of your product or brand by accessing the Social Monitor tab in the Setting menu. Here you can click on Track competitors to manage all the different pages you wish to overview. Adding a new competitor is extremely easy: just click the New button enter the name of the competitor and his Facebook and Twitter account in the pop up window that will open.
You can also quickly manage your different competitor tracking, modify or delete them.
- How can I track relevant keywords on the social monitor?
Only the admin can configure the relevant keywords trends to track by accessing the Social Monitor tab in the Setting menu. Here you can click on Track keywords to manage all the different pages you wish to overview. Adding a new keyword is extremely easy: just enter them in any free space available and hit confirm. Need to delete or modify one? Go ahead and edit them freely but please keep in mind that the system will require a certain amount of time to track them down.
- How do I add and configure a new search in the Social Monitor?
Any agent can quickly enter and edit a search in the social monitor in the Social Monitor menu. You can name your search, for quick reference, and edit all the relevant keywords you want to track. You can choose which Social network to monitor (Twitter and/or Facebook) and, if you choose to use Twitter, you can also select the language, the position and the radius, to make your search local. You can easily manage or delete all your searches.