Deskero & Outlook
A match made in heaven!
From your email client,
with love!


Through the complete integration between Deskero and Microsoft Outlook you can now create tickets directly from your client!

Got a client request sitting in your email inbox? No problem: you can instantly convert it into a Deskero ticket and import it in your customer care system.

The integration works both with Outlook Web Access and with Outlook 365 and is already available in the Microsoft Office Store.

With Deskero you ca easily use Microsoft Outlook as a powerful customer care tool!

Try it NOW!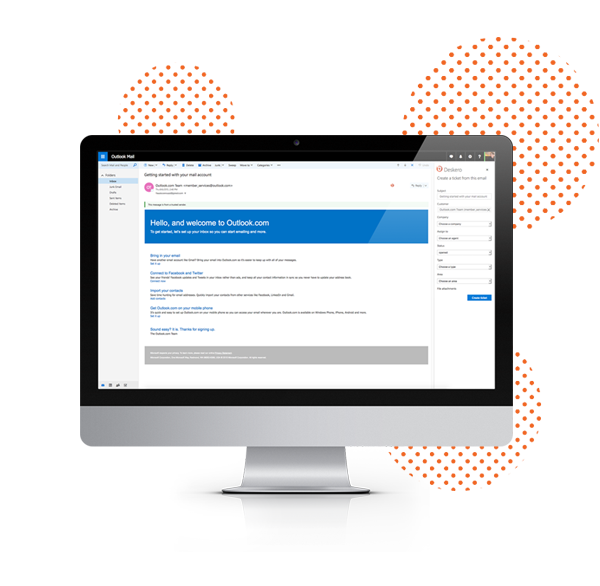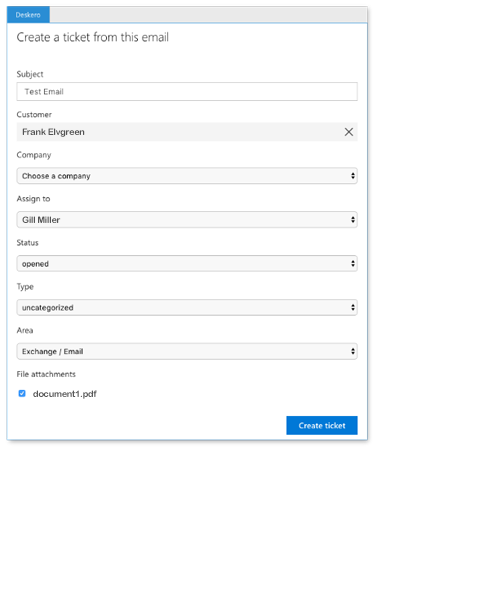 Add all the information your team need!


While creating the ticket you can assign it to a Deskero area or category, as well as to a specific agent or group. You can also change the ticket's status and even add notes to simplify your work and enhance the internal communication.

Your brand new ticket will be so much more than a simple email: it will enter the system with all the useful background data already in place, and be fully trackable and accountable for.

And you won't have to worry about loosing important info in the everyday chaos of your email client!
So, how do I get started?


It's as easy as clicking this link
to the Microsoft Office store, and following
the quick set up instructions.