Ticket assignments rules
The default configuration is quite basic: Deskero sorts all the incoming tickets between the existing agents, without making any difference between the source (mail, social, website feedback etc.).
For example, if you have two different agents they'll receive a ticket each and the workload will be fairly shared between them.
If you need further configuration, set your ticket assignment rules.
Go into the Settings menu on the top and choose Ticket business rules under the Ticket settings tab.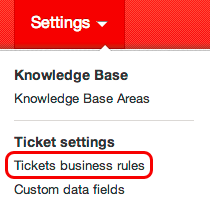 Click on Advanced: manual assignment and go to Manual assignment rules section.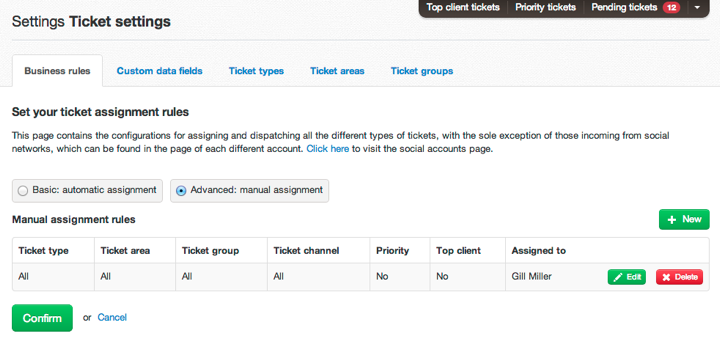 To add a rule click on the green + New button and choose what kind of tickets you want to assign to a specific agent or a group of agent.
To confirm click Save.
If you don't want manual assignment, check Basic: automatic assignment and then click on Confirm.
Social Network Accounts
Assignment rules for tickets are ticket business rules. But in case of tickets from social networks are selected for each account at the time of or after configuration.
When you configure a social network account, you can choose to set the Basic: automatic assignment or Advanced: manual assignment.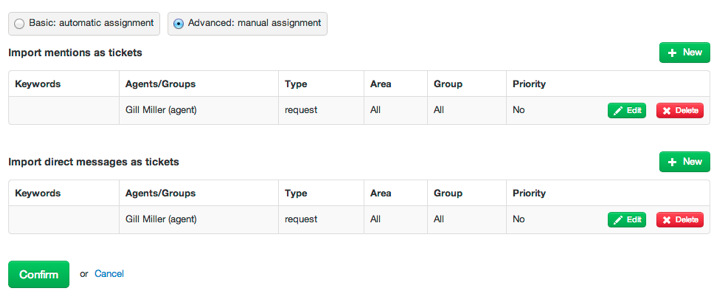 Click on + New button and choose to filter data from the social networks and to assign a specific kind of message to an agent or group of agents.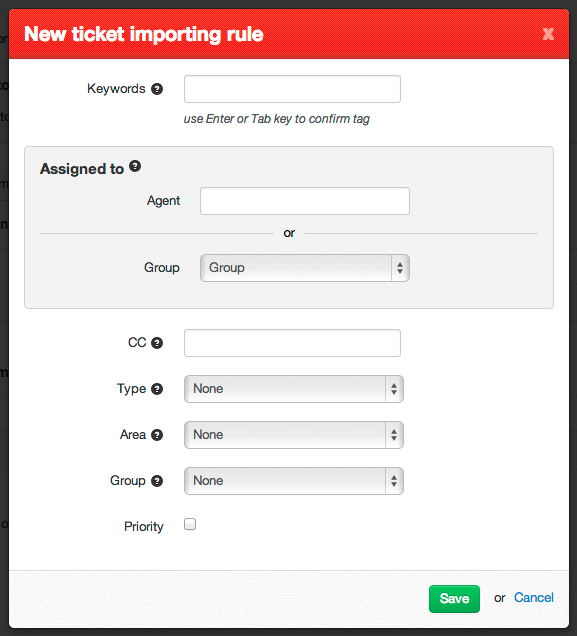 Here you can set assignment rules and ticket properties.
Every ticket can be categorized by some aspects:
Type: incident, request, task, notify.
Channel: phone inbound, phone outbound, email, web (social networks), chat.
Area: technical issue, general information, new feature request.
Group: Deskero cloud, custom installation.
Status: closed (when the customer is satisfied with the answer received), opened (not processed yet), on hold (waiting for information/feedback), solved resolved (when the operator thinks he has solved the request).
Email Accounts
To set assignment rules for emails go into Email accounts in Email settings tab.
Choose the email account and click on Edit button.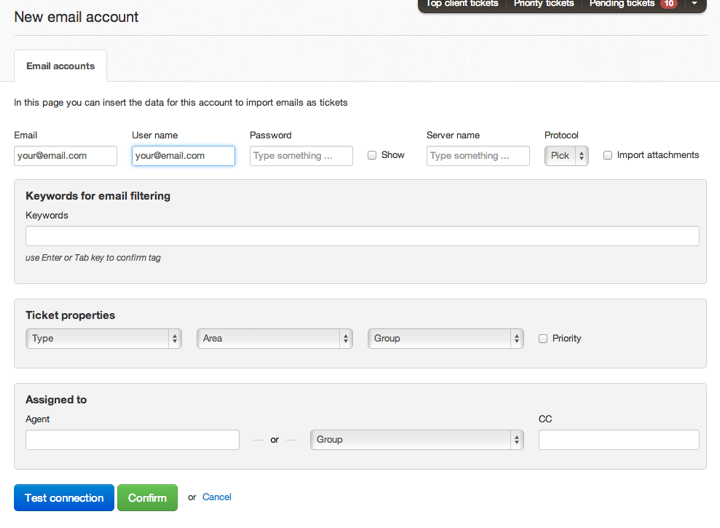 Choose who to assign tickets coming from this email account (a specific agent or a group of agent) and click Confirm.